2014 Webinar Schedule:
April 29th
Affordable Business Strategies
Brad Batesole, Lynda.com
May 27th
How to use Databases Wisely
Katie DiMeo , LocatePlus
June 24th
Turn Journalists into Allies
Don Ray, Investigative Journalist
July 29th
Crinminal Cases & DUI's
James Devitt,  Attorneys at Law
August 26th
Debugging for the Private Investigator
Corey Friedman, Nick Harris Detectives
September 30th
Skiptracing using Trap Lines
October 28th
Service of Process- "Is it worth the risk?"
Gretchen Lichtenberger, You've Been Served
 3 SKIPTRACE SEMINARS
SOLD OUT
Private investigator and skiptracing data expert Robert Scott provides a fast-paced three hour presentation that w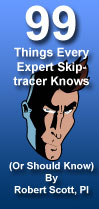 ill show exactly how successful skiptraces are done with a systematic three step approach and expands into a detailed look at 98 additional tech-niques tricks and insights used by successful skiptracers.
The seminar will also include a one hour presentation on skiptracing through Social Networking, by Jose Newman and a brainstorming session on attendees dead-end locates.
The three schedued seminars, one in Ontario and two in Burbank, have been sold out. 
PICA's webinar series will begin on Tuesday April 29th with instructor Brad Batesole, from lynda.com, teaching affordable business strategies.
Topics covered include, how to:
- promote yourself and your business
- communicate with clients
- grow your business
- brand your company
- use images, logos and slogans
- creating or improving a website
Also included in the presentation:
- Online free or low cost business tools
- Affordable online project management tools
- Online billing and invoicing programs
- Fast, low cost printing resource
- Blogs and social media strategies
Brad is a successful entrepreneur in the complex world of business, graduating from Azusa Pacific university with a degree in business; his mission is to stay on the forefront of technology and current business methods.

While working as the online marketing manager for Lynda.com, Brad contributed to a $10 million growth in annual sales, conducted presentations at marketing conferences, and was recently selected to be an expert instructor for Lynda.com, teaching online marketing courses.

Brad has succeeded in past corporate experiences, such as print production, graphic design and marketing, completing assignments for LegalZoom.com, KFI AM 640, Scrubs Magazine, eSolar, Deepak Chopra, Kellogg's, Microsoft, Sport Chalet, Azusa Pacific University and Procter & Gamble.  He also developed strategy on SEO tools for Google and consulted on search marketing and social applications for Adobe.
Brad's experiences in computer technical support, executive administration, graphic design, camp counseling, world traveling, and private investigation assist in his ability to create quick resolutions to challenging problems.
Brad is a pilot, an avid rock climber, snowboarder, wakeboarer, and just about everything else that creates an opportunity for hospital visits. He has a huge passion for traveling with his wife, Emily, and has even visited the tiny island of Yap.